After reading this educational web site on gentle baby swimming and gentle infant swimming, if you wish to attend Rob and Kathy McKay's, Lifestyle Swim School® with Serenity Swim® in Boca Raton, Florida with your baby visit LifestyleSwimSchool®. Or if you desire to become a licensed baby swim teacher using our Serenity Swim® holistic, gentle teaching method, you can visit SerenitySwimNetwork®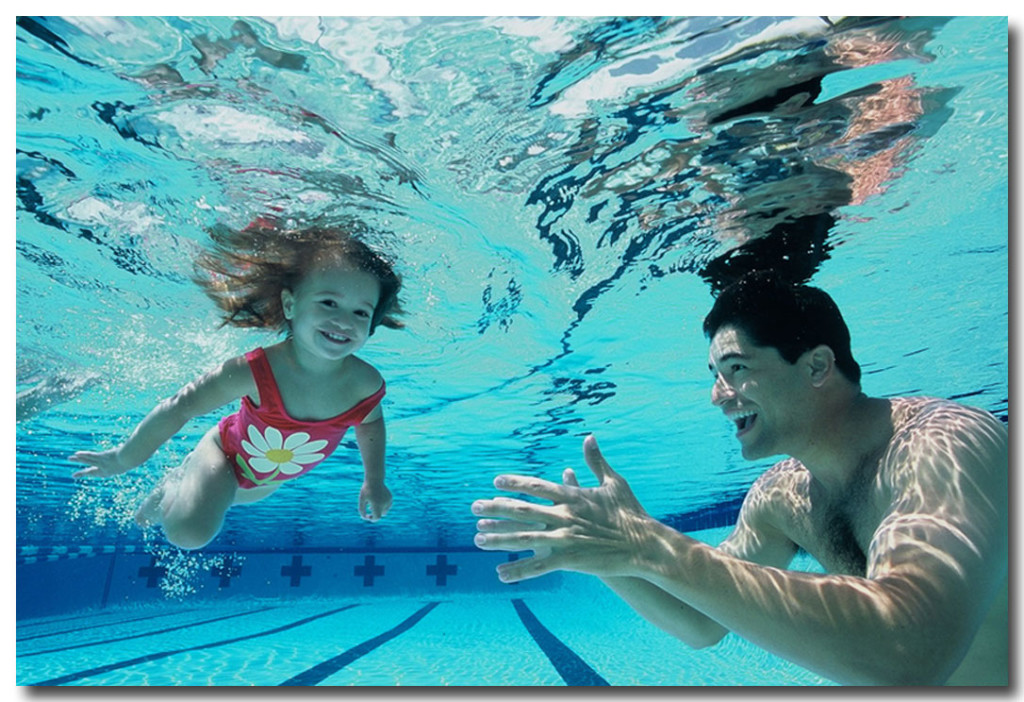 The Serenity Swim Network Licensing and Certification program is approved as a "Nationally Recognized Aquatic Training Program" by the State of Florida.
Water, babies, laughter and learning to swim… it's an unbeatable combination. This web site is designed to support parents and teachers seeking an expanded awareness into the gentle "whole child" approach to teaching babies how to swim. Focusing on the infant-toddler's level of well-being and readiness, baby swimming is taken to a higher level beyond that of strictly acquisition of physical skills.
Baby swimming has so much to offer when approached in a nurturing, child-paced, "baby friendly" environment: boundless joy, self confidence, personal development, as well as happy, healthy and well adjusted children. Raising a child will be the most important job a parent will ever have and growing up is never easy. That is why well informed, intelligent "child raising" choices by parents are necessary in order to provide their offspring a positive start in life.
We must remember that while we teach the children to respect the water, we must never lose our respect for the children during the learning process, where our foremost concern must be with the well-being of the child. Teaching a baby to swim is a subtle, long term process which requires interpersonal sensitivity, altruistic motivation, insight, skill and joy. Patient parents who are able to enjoy the moment and at the same time "stay the course" will rediscover the virtue of water and it's ability to nourish their baby's entire being. For the right people, in the right situation, baby swimming can foster a connectedness to family, community and to the outer world.  A cooperative partnership between parent, child and teacher is key to creating the kind of harmonious relationship necessary to gently and playfully guide our young Diaper Dolphins.
The learning experience should be filled with of joy, peace and laughter. It is necessary to be discerning and capable of wisely recognizing a "baby friendly" program that develops a relationship with and honors your child as a unique individual with feelings and emotions, like a sponge ready to expand and grow. In tune, "child aware" programs foster smooth, fluid movement through the water; the aquatic encounter becomes refreshing, invigorating and calming. The process becomes an intuitive art, reaching far beyond the desired long term swimming safety goals, helping to open up each child in a joyous way, to whom they are supposed to be.
Raising the bar on teaching with kindness and joy, meeting children where they are, not imposing a harsh, insensitive adult agenda (ie: infant survival swimming and aggressive back float manipulation/violation). Time to move from dominance, fear and control, to joy, nurturing and responsibility. (See philosophy page)

Take the Higher Road

All swim lessons should project a pervasive sense of well being, as well as an underlying peacefulness and lightheartedness..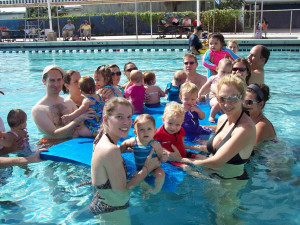 When cultivated by a foundation of understanding, kindness and patience (never rushing), holistic baby swimming provides a unique opportunity to unlock your child's potential and growth on many levels. Join noted infant swim authorities, Rob and Kathy McKay, as they share: philosophy; surprising and numerous benefits; what babies can learn; swimming safety skills; selecting a gentle "baby friendly" program; home pool safety and more. Rob is the recipient of the 1999 Paragon Award for Aquatic Safety and the inaugural Virginia Hunt Newman International award for baby swimming in 2004, which were both presented at the International Swimming Hall of Fame annual Inductee/Honoree ceremonies, in Fort Lauderdale, Florida.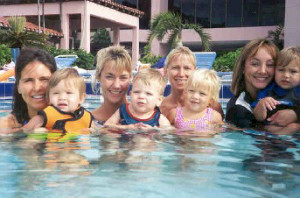 The first honor is presented annually to the individual who has excelled in their field and made outstanding contributions to aquatic safety. The latter honoring the individual who most exemplifies the loving, gentle approach to teaching infants and toddlers how to swim. The McKay's are the creators of the award winning baby swimming video series "Diaper Dolphins" which has been featured on the nationally syndicated TV magazine show Extra and The World of Wonder. A social experience beyond compareParents and teachers all over the world are using these videos as a valuable instructional resource. Their Lifestyle Swim School has been featured on the "Best of the Discovery Channel", CBS This Morning and USA TODAY. Nippon TV from Tokyo, has filmed a segment on the McKay's method for national broadcast throughout Japan, on a special entitled "Charismatic Teachers." They also speak nationally and internationally on the subject of gentle, "child-centered" baby swimming. Selected as the speakers to represent the United States at the International Aquatic Conference in Acapulco, Mexico, Rob and Kathy joined Olympic swimming legend Mark Spitz to present workshops and talks. Rob and Kathy are honored to be guest contributing authors for the new infant and toddler swim program for Swim Australia. They conduct teacher training workshops at their Lifestyle Swim School located at the Florida Atlantic University (FAU) main pool and at the Henderson School on the FAU campus, in Boca Raton, Florida.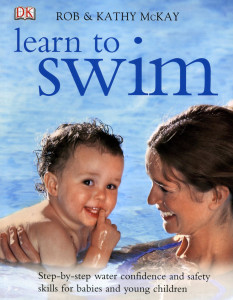 DK/Penguin Publishing of London/New York announced the Spring 2005 release of Rob and Kathy McKay's book, "Learn to Swim: Step by Step Water Confidence and Safety Skills for Babies and Young Children". The 128 page book outlines the couple's philosophy and features step-by-step how-to's for parents and teachers of children 6 months through 4 years old. As with all DK books, visually appealing photos and unique graphic layouts draw the reader to the page. Rob and Kathy's small swim students and their parents grace the pages of "Learn to Swim" as techniques and tips are shared for each age and stage. Learn to Swim is available at many stores including Barnes and Noble, Borders Book Store, Books a Million, Amazon.com, Target.com, and Wal-Mart.com. In the Books A Million store you can locate "Learn to Swim" next to Dr. Benjamin Spock's book "Baby and Child Care 8th Edition" and in Barnes and Noble next to actress Jenny McCarthy's book "Belly Laughs". It is currently available in the prestigious One Step Ahead catalog. On the Amazon.com best seller list on 5/29/2006 Learn to Swim rose to the #1 spot for all swimming books sold and #1 for books in the entire water sports category. It also broke into the top 100 of ALL books sold in the "baby" category. Learn to Swim continues to peak numerous times at the #1 spot in 2007, 2008, 2009, and #2 2010 on Amazon for all swimming books sold. International translated editions were released in Germany, Portugal, Italy and England.
Update: The hard copy of the book has sold out in the United States and most countries. 
JLP says: "I love the program the Mc Kay's have created. I was searching for a friendly way to teach my then 8 month old daughter to swim. Unhappy with the forceful survival swim lessons offered in my area, I searched the web and came across the Mc Kay's website babyswimming.com. This is not just a about learning to swim, but a way of life, and a guide to parenting through love and play. I now look forward to summer and lots of family nights at the pool spending quality time with my kids. A HUGE thanks to the Mc Kays…they are truly amazing:)".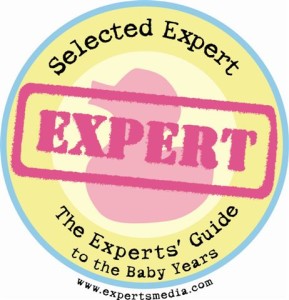 Expert contributors Rob and Kathy McKay attended the launch party for The Experts' Guide to the Baby Years on Thursday, October 12th, in New York City, Times Square. The party benefited Baby Buggy and was hosted by Jessica Seinfeld (wife of comedian Jerry Seinfeld). Compiled by creator Samantha Ettus, the book features 100 experts on baby's first years. The McKay's chapter is entitled "Introducing Your Baby to Swimming: the Pearls of the Pool" Among fellow expert contributors are nationally recognized psychologists, pediatricians, authors and child care experts. Included are Dr. Bill Sears (pediatrician and author of 30 books on child care) Dr. Gail Saltz (mental health contributor on NBC's "Today" show) and Pauline Frommer of the famous travel guides. Other contributors include designers Liz Lang, Kate Spade and Lucy Sykes as well as "Iron Chef" Cat Cora.
Learning through songs, interactive games and group activities, appeals to a child's sense of curiosity, wonder and play. All complemented by colorful toys and other engaging aquatic apparatus. With mom and dad as co-teachers in the pool, in a group format with other like minded parents, babies can learn to relate to the water with ease and confidence. Infants as young as six months old can begin to learn to rediscover the liquid environment they left behind in the womb. As their harmony in this water world evolves, so too does the "whole child", blossoming like a rose. It is our hope to tap into this unique watery window of opportunity occurring during the early formative years. As parents and teachers we have a special stewardship, through which we aspire to capture the extraordinary influences of a positive aquatic learning experience. With respect for each and every child, you will marvel at the benefits that bubble to the surface over time.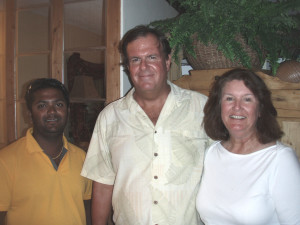 Rob and Kathy are honored to have assisted in the birthing of the first baby swimming program for the worlds second largest nation, India. M. Satish Kumar traveled from Bangalore, India's third largest city to participate in the McKay's teacher training workshop, embracing their gentle child centered approach for infant and toddler swimming, a perfect fit for his peace loving nation.
Pictured to the right: Rob and Kathy McKay with Satish Kumar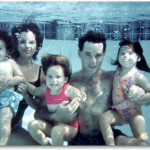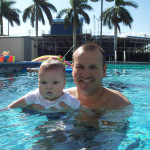 Together in and under this fountain of youth, families can celebrate memorable joys of childhood and family unity.