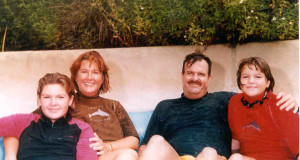 Rob and Kathy McKay have dedicated the majority of their adult lives to creating the most natural, child friendly, educationally sound aquatic teaching curriculum for infants, toddlers, preschoolers and school age children. By adapting innovative child-centered teaching techniques to the unique abilities and comfort levels of their young students, they have created optimal learning environments dedicated to the growth and development of the whole child.
The very tangible result of their mission is the nationally acclaimed Lifestyle Swim School, in Boca Raton, Florida and the couple's award winning video series, Diaper Dolphins.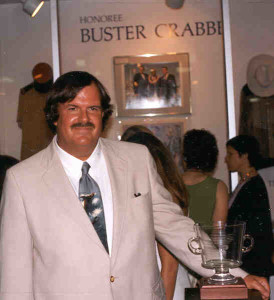 Rob is the 1999 recipient of the Paragon Award for Aquatic Safety, which he was presented  on May 7th at the International Swimming Hall of Fame annual Inductee/Honoree ceremonies, in Fort Lauderdale, Florida. This honor is presented annually to an individual who has excelled in their field and made outstanding contributions to aquatic safety. Previous recipients include John M. Malatak of The United States Coast Guard (1998), Thomas C. Werts formally of The American Red Cross and Disney (1997) and Christine Branche-Dorsey, PH.D.of the Centers for Disease Control (1996).
Rob made a TV appearance on the Leon Charney Report  news hour, in New York City. He was honored to have his segment taped the same evening as Yehuda Lanery, the Israeli Ambassador to the United Nations and Raghida Dergham, a leading Arabic columnist for Al Hayat, in London.
Dr. Daniel Zylberburg of the University of Paris invited Rob to submit an abstract  for the International Infant Aquatic Conference in Toulouse, France. In 1995, Rob addressed this world wide conference in Melbourne, Australia. His presentation was entitled "Teaching from the Heart, Using Your Head: An Interactive Curriculum for the Whole Child." The following year he was the guest lecturer for the New Zealand Swimming Association's national conference, in Rotorua.
Along with baby swimming pioneer, Virginia Hunt Newman,  president of the World Aquatic Baby Congress, Rob and Kathy were featured on The Discovery Channel. Michael Dorn, also known as Lt. Worf on Star Trek, narrated the segment for the "World of Wonder" series, entitled Water Babies. The story featured swimmers from the Lifestyle Swim School, interviewed Rob and commissioned him to film the underwater footage for the piece. Increased intelligence and innate swimming abilities were the focus of the story, which is being aired annually in over 50 countries.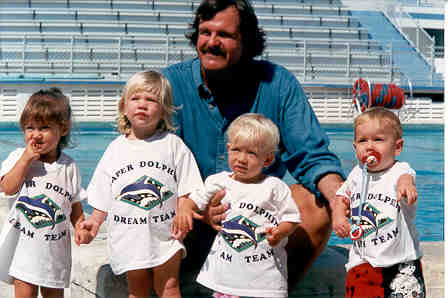 Once again teaming with Virginia Hunt Newman; Rob, Kathy and the Lifestyle Swim School were selected by the Kimberly Clark Corporation to kick off  their nationwide T.V. press release on their new "Huggies Little Swimmers" pool pant. The entire school donned these well fitting disposable swim diapers. The McKay's shared five key points on selecting a "gentle whole child" swim program for babies to over 3,000,000 viewers from New York to California.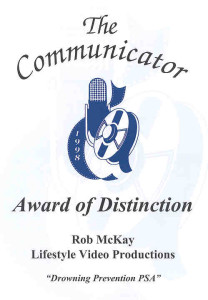 Locally, Kelly Dunn, channel 5 anchor woman and camera man, Jim Sinton received an Emmy award nomination for their 1998 story on water safety and the Lifestyle Swim School. Also, Rob and Kathy were honored to have their Lifestyle Video Productions commissioned to produce three Public Service T.V. commercials for Palm Beach County, on drowning prevention. Their "Supervision " PSA was the recipient of a Communicator Award winning the  "Award of Distinction".
Rob, listed in "Who's Who in Aquatics", has been featured in "Family Life" magazine, "The New York Post" and on CBS "This Morning". He has authored articles for "Fitness Swimmer" magazine, "Aquatics" magazine, "Florida Parent" , "Australian Swim Coaches Journal", and "Swim Teachers of America". Rob was selected by the Perrier Water Company to be a spokesperson on water safety for their Ozarka subsidiary and twice served as a delegate at the National Aquatic Summit in Washington D.C.
He and Kathy were selected as the teacher trainers on infant swimming for the International Aquatica Symposium sponsored by the International Swimming Hall of Fame.
Kathy is a graduate of Mount Holyoke College, with a strong emphasis in education and educational philosophy and methods. Her thematic approach to lesson planning is always apparent in games, songs, creative play, toys and theme days at the swim school.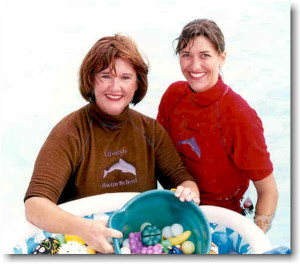 As a girl scout leader, Kathy was honored as "Outstanding Leader" for her city. She recently received the "Outstanding Teacher Award" from the National Swim School Association. Valedictorian of her high school class, Kathy's brilliant writing and organizational abilities have helped to create many peripherals such as P.S.A. scripts, teacher training manuals and parent guides. She is the calming voice behind Diaper Dolphins Volume II (amazingly all accomplished in nearly one take) and the Palm Beach County drowning prevention P.S.A.'s.
Rob has spent his life in and around the water. He was most fortunate to be swimming by the age of  3 (back in the 1950's in Oelwein, Iowa) thanks to conscientious parents. Back in Cedar Rapids, Rob continued lessons at the YMCA and through the Red Cross. By the age of 16, Rob was honored as an All American swimmer while swimming for the legendary coach Hal Krizan at Washington High School, in Cedar Rapids, Iowa. His relay team set a national YMCA record in the 800 yard freestyle relay at the 1969 YMCA national championships, in Little Rock, Arkansas. He was a member of the 1970 YMCA national championship team.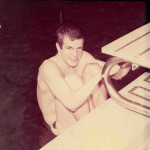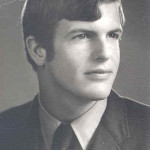 Active in student government, as a junior, Rob was elected to the cabinet of the Iowa State student council. A special faculty committee presented Rob with an award as the male who contributed the most to his high school class of 1971. A previous recipient was TV actor Doug Barr of  "Fall Guy" and "Designing Woman". As nephew of the founder of the Cedar Rapids Symphony Joseph Kitchen, Rob was also an accomplished violinist and later added Celtic fiddle and guitar to his repertoire.
A varsity swimmer at Florida State University he was honored as a scholar athlete. As head coach of the Cedar Rapids YMCA, his swimmers set three national YMCA records. While attending graduate school in education at F.S.U., Rob served as assistant men's swim coach for the university, where he was a dean's list student. Both a Red Cross WSI and a level 4 swim coach through the American Swim Coaches Association, he is a charter member of the National Swim School Association and serves on the Board of Directors of the World Aquatic Baby Congress. In May of 2002, Rob was appointed to the International Swimming Hall of Fame board of advisors, called the International Congress, along with other aquatic contributors including Olympic Gold Medalist Gary Hall Jr. Rob McKay still swims three days per week, for health, fun and fitness. He enjoys the refreshing and invigorating benefits of swimming. Rob recently participated in the Galt Ocean Swim and is in training for the Publix Classic Triathlon Series.
Rob and Kathy McKay have owned and operated the Lifestyle Swim School since 1981 and their award winning video production company, Lifestyle Video Productions since 1990.