There is no greater place than the family pool. However, as water holds endless fascination for toddlers, you must take every precaution to prevent your child from entering the pool without you. Small children lack the cognitive ability to discern danger. It is the adult's responsibility to protect these curious and impulsive explorers from entering any body of water unsupervised. Fortunately, many proactive strategies do exist providing multiple layers of protection to help minimize the risk of a child "accidentally" falling into the family pool or any body of water. Supervision, combined with barriers (including double door locks, door alarms, pool alarms and perimeter yard fencing), pool safety fencing, gentle swimming lessons and CPR/water safety awareness can help keep our children safe.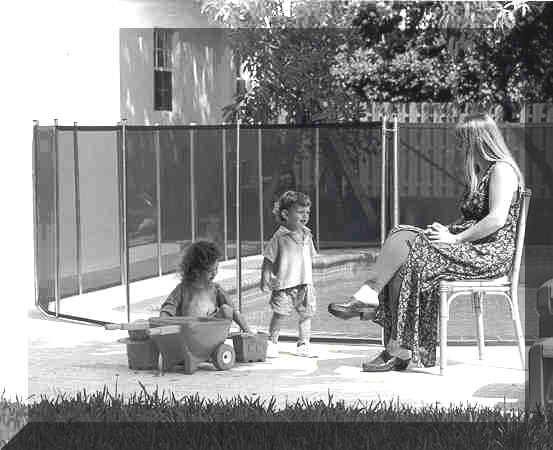 The following safety precautions are excerpts from the "Diaper Dolphins Safety Circle Poster" included in Volume II of our Video series, "Diaper Dolphins"
SUPERVISION by adults in and out of the house is paramount. Always know where your children are. Around water, stay close while maintaining constant eye contact and never leave a child unattended even for a second. Never assume someone else is watching your child. At social gatherings, designate an adult water watcher. If your child is missing, always check the pool first. Keep toilet lids closed and locked. Remove all buckets as babies can fall in head first. Never leave a child unattended in the bath. Ensure that each caregiver understands the importance of all safety precautions.
BARRIERS leading to the pool or any body of water must be installed AND maintained. Capabilities of toddlers change daily. Today they sit, tomorrow they crawl. Toddlers can slip through an unlocked door in the time it takes to answer the phone. Keep all entrances to the pool closed and locked. Install a second lock on each door leading to the pool well out of the reach of  a growing toddler's grasp. Door and pool alarms can alert adults of unauthorized access. A see through mesh type fence should completely surround the pool, with a minimum height of 48 inches. This pool safety fence is especially important in separating one's home and all of it's exits from the pool. When not in use maintain and lock the pool safety fence gate. Keep all climbable objects away from the fence in the event they could enable a toddler to gain access over the fence. Approved pool safety covers can add yet another layer of protection. Perimeter yard fences should have self-closing and self-latching gates.
SWIMMING SAFETY SKILLS SWIMMING SAFETY SKILLS are a vital supplement to supervision and barriers. Even during the water adjustment stage infants/toddlers who are relaxed in the water and can hold their breath provide their parents a few extra seconds to pick them up out of the water. This is a common scene near pool steps or baby pools where the family is sitting and playing. As the children progress, advanced aquatic abilities can provide a final safety net of protection if an unsupervised water entry should occur. Such skills include jumping in, turning around and swimming back to the side, recovering up for a breath and rolling to the back for a breath   (refer to "What Can Babies Learn" page).
INFANT CHILD CPR and first aid certification are needed for all parents and caregivers. Prepare an emergency action plan and in the event of an accident stay calm and react quickly and effectively. Maintain a portable phone by the pool and post emergency numbers including 911 on all phones. Keep all toys etc. out of the pool when not in use. Keep tricycles and wheel toys out of the pool area. It is never too soon to teach your child pool rules. Such as never entering the water without mommy or daddy.
Remember, for the safety circle to be most effective, it must remain unbroken. No one segment should create a false sense of security. All four pieces of the safety circle pie must be applied. Responsible parents and caregivers will put into action all the measures necessary to safe guard their child.
Under the direction of famed swimming personality and Olympic Swim Coach Laurie Lawrence, Queensland, Australia has instituted a "Keep Kids Alive Program" to reduce the incidences of drowning in Eastern Australia. The program is working. Laurie known for his down to earth folk songs has written the following verse to remind parents and care givers of their responsibility to their children in regard to water safety. His song is entitled "Keep Kids Alive and Do the Five."
Pool Drain Cover Safety
Check drain covers to ensure they are not loose or broken. If you have doubts, call a pool professional to inspect it.
Do not get in pools that have loose, broken or missing drain covers.
Replace old drain covers with ones that meet standards of the Virginia Graeme Baker Pool and Spa Safety Act, marked VGB 2008
Install an automatic pump shut-off system
Install a safety vacuum release system
source: U.S. Consumer Product Safety Commission and The Association of Pool and Spa Professionals
More Great Pool Safety Tips
Never allow children to swim alone or swim without adult supervision.
An adult should be within arm's length of infants and toddlers in or around water.
Install a 4-sided isolation fence around the pool with a self-closing, self-latching gate.
Store toys away from the pool when not in use so childen won't be tempted to go near the water.
Keep a phone by the pool for use in emergencies.
Keep water levels full in pools to help child reach the ledge.
Educate caregivers and neighbors about water safety. Adults supervising childen should learn to swim and learn CPR.
Adults supervising swimming children should not be distracted by talking on the phone, reading, socializing, cooking or other activities.
Water wings and other inflatable swimming aids do not replace adult supervision.
Rigid pool covers and pool alarms are supplemental layers of protection but do not replace fencing around pools.
Keep approved life jackets, life preservers or a shepherd's crook by the pool.
Install anti-entrapment devices on pool drains
source: American Academy of Pediatrics; National Drowning Prevention Alliance